by James Herbert @outsidethenba
The vast majority of free agents have signed in the past few weeks, but some players remain in limbo. The market has dried up, and when it comes to compensation, compromises will have to be made. Derrick Rose, for example, reportedly agreed to a one-year deal with the Cleveland Cavaliers for the veteran minimum Monday. Here are 25 more guys who are still available: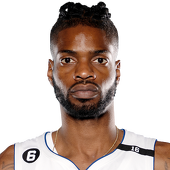 The Mavericks acquired him at the deadline with the intention of re-signing him, and reaching an agreement reportedly was their top priority heading into free agency. Still unsigned and without leverage, this feels a bit reminiscent of the Tristan Thompson situation with the Cavaliers two summers ago. Or maybe that's an easy connection because they're similar players — Noel won't do a lot for you with the ball in his hands, but he's a disruptive defensive player who can catch lobs and rebound well.